Review
Fonochat is one of the largest North American singles chat lines for Hispanics to meet, flirt, and find love or something fun. Latinos and Latinas are invited to get to know people you already share common ground with and make connections that could turn into more.
Since 1990, Fonochat has been the phone line for single Hispanics to get to know each other, meet, and connect. No paid operators here, just real people looking for the right person (or people) to connect with.
With one chatroom in English and one in Spanish, you can connect in the language you're most comfortable using. Women can use Fonochat for free and are invited to become free members for more perks. Men can start with a free trial, as long as you're a new user, and become a paid member to get full use out of the chatline.
This is your chance to cut through the noise of online profiles and fake avatars and hear a person's voice. Instead of wondering if someone on the other end is real or not, you can listen to what they say and judge for yourself. Listen to greetings, send messages, and when it feels right, go into private chats to get know each other even more. Keep it fun and light or follow your heart.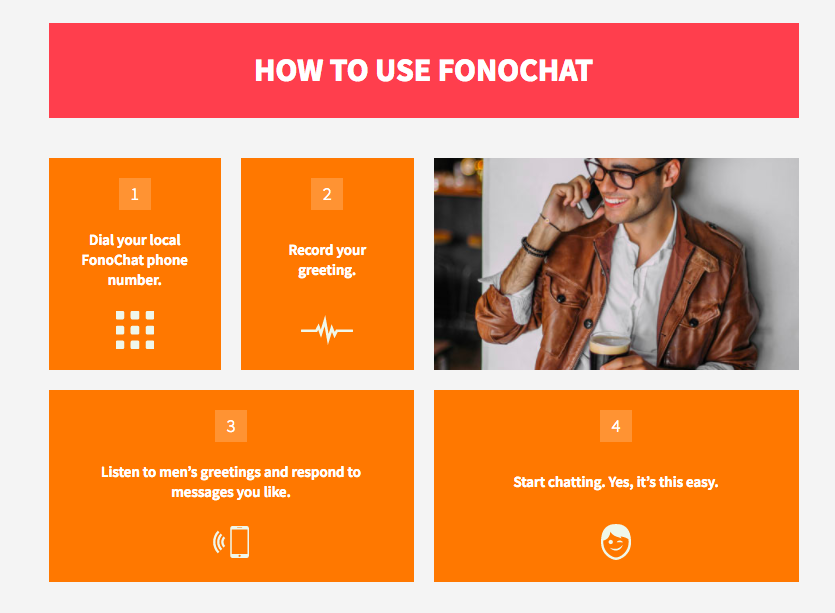 Joining Fonochat
Joining for the first time is ridiculously easy. Go to the website, get a local phone number, and call in. If you're in one of the few places where Fonochat doesn't have a presence, you can still call in with a 1-800 number.
Free Membership for Latinas
Call the local number you're given on the website.

Follow the prompt to let the system know you're female.

Listen to the information about membership.

Start recording a greeting and chatting with guys who catch your attention.
You can use Fonochat like this for as long as you want. But if you take advantage of the free membership you get perks like saved greetings and being able to use Fonochat from any phone you want.
Membership for Latinos
As a guy, you can start with a free trial to make sure Fonochat is right for you. It's incredible easy and will have you talking to hot women in no time at all.
Call the local number you receive on the website.

Follow the prompts for your free minutes.

Record a greeting and start chatting.
You must call from the same number each time you call in during your free trial. If that number has been used on Fonochat in the past, it won't be eligible for a free trial again. After the trial is over, you can take advantage of a new member Double-the-Minutes offer for first-time paid members. Only one free trial membership is available per household.
Benefits of Paid Membership
Whether you're male or female, membership has many benefits. If you really want to use Fonochat to find lust, love, or something in between, becoming a member makes that easier. Here's what you get:
Priority customer service ahead of free trial members

Access Fonochat from any phone

Priority access gets you into the chatroom even on busy days

Save your greeting to use in the future

Your messages have priority over free trial members and will get to the people you like

Take advantage of the loyalty program that lets you earn bonus chat time and rewards

Have an ad-free experience

Use your online account to manage your membership, add minutes, and check your balance
To become a paid member, you'll need to purchase minutes. You've got multiple options based on your budget and how much fun you want to have.
10 minutes for $4.99

30 minutes for $9.99

120 minutes for $29.99
The 30 minute package is available for the Double-the-Minutes offer for new paid members. You'll get 60 minutes for $9.99 if you're eligible.
Your time begins counting down after you record your greeting and start listening to members' greetings and messages. Time is deducted by the minute. Any membership unused for 30 days will be charged a 10-minute maintenance fee. If you remain inactive after 90 days, your account will be deactivated without a refund for any time left.
Using Fonochat
To have a safe and great experience with Fonochat, be friendly and treat people with respect. Don't discriminate based on age, race, or gender and don't discuss or reference illegal substances while on the chatline. To make sure you and everyone else has fun, follow Fonochat's guidelines.
You must be over 18.

State your actual gender in your bio.

You

must speak in your greeting.

Speak in the language of the room you enter, whether English or Spanish.

Respect the privacy of other callers.

No solicitation of goods, services, funds, or advertising is allowed on Fonochat.

Harassment or offensive behavior will not be tolerated. This includes obscene, abusive, racists, slanderous, defamatory, or obscene speech.

Do not include identifying information in your greeting. This is for your privacy and safety. Keep your email address, phone number, home and work address, websites, and social media information private.
For the most part Fonochat will not interact with you as a user unless and until you call them for help or a question. They do request personal information to protect from fraud when you call to set up your paid membership. You may be asked for your name, address, phone number, social security number, credit card number, or check-by-phone account number. This information is only used to process your order.
Navigating Fonochat
To use the available features and navigate Fonochat, follow the prompts while you're on the line. You'll be able to skip greetings, request connections, send messages, repeat messages and greetings, and even block members you don't want to hear from again (simply press "7"). To get the most out of your Fonochat experience, there are several features you'll want to use.
Record Your Greeting
The very first thing you'll be prompted to do is record a greeting. This is how people will know you're on the line and decide if they want to get to know you. Speak clearly and confidently. Describe yourself and what you're looking for – fun, something serious, or something sexy. Your greeting can be up to a minute long. Once you're a full member, you can save your greeting to use again.
Send Messages
You can send as many messages as you would like to other members. Listen to their greeting and follow the prompt to reply with a message. This is a personal voice message you can use to tell them what you thought of their greeting and that you'd like to get to know them better. When you get a new message from another member, you'll receive a notification.
Connection Request
A Connection Request is different than a basic message. Here you're able to ask another member to join you for a live and private conversation. You'll record a voice message asking for the connection. Then you'll be placed on hold until the other person has listened to your message and responds to your request.
Hotlist
You can add people you really like to your Hotlist. This means that you'll get notifications when they're on the phone so you can interact with them.
Payments and Refunds
Payments can be made by Visa, Mastercard, American Express, Discover Card, check-by-phone, and Western Union. Discover Card and check-by-phone are available for U.S. residents only. Your bank statement will list "TELIGENCE" for the payment. All payments are discreet. Credit cards are securely directed to your financial institution, and you are notified of whether your payment is approved or denied on the phone when you call in your payment. You can also use the online system to add minutes in total privacy.
Fees and charges are nonrefundable. If your account is terminated due to non-use or for violation of Fonochat's rules, you will not receive a refund. Only in very limited circumstances will a refund be considered and only when it's due to a problem Fonochat is responsible for.
Tech Issues
Any issues you may have while using Fonochat should be directed to their 24/7 customer service phone number.
Safety
Fonochat is not responsible for your safety beyond keeping your conversations private and discreet. If you choose to meet another member locally, you're responsible for staying safe. Fonochat does provide guidelines to help members protect themselves.
Fonochat will not request or require photographs, questionnaire forms, or other searchable information. This is to protect your privacy. What anyone knows about you is what you choose to share with them.

Fonochat does not check the background of their members out of respect for their privacy. It is up to members to use their discretion when meeting or sharing personal information.

Meet new people in public places and let someone you trust know where you'll be.

Listen to your gut and if something doesn't feel right, don't meet.

You're not obligated to share any details with another member or meet anyone.

If you talk to someone who is underage while using Fonochat, report them to customer service immediately.
Like all other dating services and phone chatlines, you've got to watch out for yourself. Take your time and get to know someone before agreeing to meet, and always refuse to go or leave as soon as possible if something doesn't feel right.