Review
Between is a Korean-designed mobile app that is aimed at couples. The app is free to download on iOS and Android smartphones. There's also a desktop version available to download on Windows and Mac as well as a premium version, Between Plus.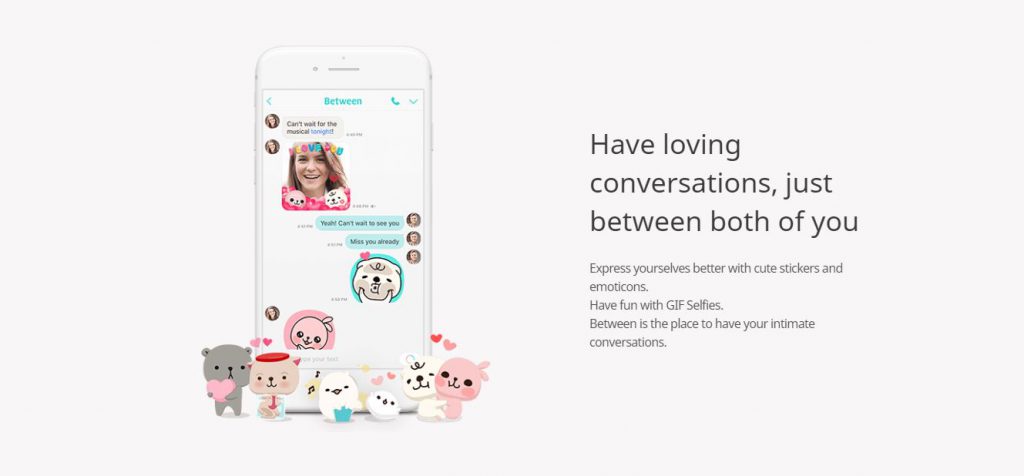 The Between Brand
Between is designed to help couples connect and become closer, and it has a number of useful features to help you to do so. The app was created by South Korean company VCNC Inc in 2012. Today it has 460,000 monthly active users and at the TNW Conference in 2012 it won first prize in the best mobile app category.
Although 91% of users are from Asia, the developers are aiming at global expansion, with 13 languages supported. Between's developers have marketed their app at couples and made it free to download for both iOS and Android. The cute design appeals mostly to women, who may then persuade their partners and friends in relationships to download it – a clever marketing ploy!
Registration
To sign up as a member of Between, you can log in with your Facebook account, making the whole registration process much easier. Or you can choose to sign in with your email address and choose a password. The app makes it clear that by clicking 'Sign Up', you're agreeing to their Terms of Use and Privacy Policy, so it's worth reviewing these before you sign up.
The app then gives you (and the other person installing the app on their device) an invitation code. You simply give the invitation code on your device to your partner (and they give you theirs) and input the code they've given you, then click 'Connect'. If you like, you can also connect by inputting your phone number. If you get stuck at any point during the sign-up process you can click the 'Help' button at the bottom left of the app, a nice touch which takes you to Between Support.
Desktop/Mobile Capability
Between is primarily designed as a mobile app for iOS and Android, to be used by couples on the go. However there are downloadable versions available for desktop PCS and Mac OS, which take a few minutes to install, depending on your internet connection speeds. This means that whatever device you're using, you'll be able to access the app and your information, like shared calendars and notes.
User Experience
Between is a well-designed app with a cute interface and clean, colourful design. The sign-up process is fairly quick and easy and once you're in the app itself, everything is just as easy to navigate. The downside of Between being aimed at couples is that you can't simply download the app by yourself to check it out before inviting your partner to install it, as you'll need to input each other's phone numbers or invitation codes to connect and get started using the app.
Some users have reported issues with the video calling and messaging features, particularly after an app update. It can also be a little irritating to find a sticker you want to send and realize it is a paid for feature!
Safety and Security
Between is designed for use by couples, so if you break up with your partner you can disconnect your account from theirs. The app doesn't store your password directly but instead encrypts it and uses this alongside an access token, so you can sign-in safely and securely. They also provide secure data transfer using SSL and a tier-one secured access data centre which means all your memos, photos, calendar events and shared messages are stored securely.
If you have any security concerns then you can contact the app developers through their feedback email (available on the app store download page).
Customer Service
It's clear that Between's developers have spent some time creating a knowledge base available on their support pages, which means help is available whenever you need it. There's a handy search feature which lets you search for the answers you need, as well as FAQs divided into categories such as 'Using Between' and 'Account/Connect.' If you're having issues with the app or if you can't find the answers to any of your questions, it's not immediately obvious how to contact the support team.
There's no obvious 'Contact Us' link to click on, but if you go to the app download page in the iOS or Google Play store, there is a developer email for feedback, where you can presumably get support if needed!
Conclusion
If you're the type of person who is so committed to your partner that you want to schedule everything together and stay on top of those important events like anniversaries and date nights, then Between is one of the best couple apps out there. It's also ideal for those in long-distance relationships thanks to the free video calling feature.
However, the cutesy design and lack of ability to sync the calendar with iCal and Google Calendar may be off putting for some people. In addition, if you want access to the whole range of stickers and features, you'll need to upgrade to the paid version. Overall, this is a good idea and executed fairly well. For loved up couples who can't keep away from each other, it is almost perfect. So we give Between a 7.0!